Talisman

"I gave them the music line-up that we used last year with my favorites highlighted. Talisman is in the top five. You are the perfect fit for our markets and very easy to work with.
-- Chris Sagar, Hillsboro Farmers Market

"Last Friday's concert... was a wonderful evening and so many people have commented on it... a nice mix of vocal and instrumental, and the banter from the stage... made this concert especially great. Thanks."
-- Sharon Moore, Salem, OR

Talisman has delighted audiences at festivals, fairs, concert halls, pubs, weddings, farmers markets, rallies, and fundraisers since 1994. The band's hammered dulcimer, fiddle, flutes & whistles, guitar, and voices -- delivering a percolating blend of Celtic, New England, Appalachian, and original tunes and songs -- stir the feet and give the brain's pleasure receptors a friendly nudge.
Known for its "imaginative arrangements" (Victory Review), the band draws on 300 years of dance music and songs from the Celtic and American folk traditions, often creatively weaving old tunes into modern songs. Talisman can soothe, but they more often turn listeners into dancers with expertly tackled jigs, polkas, and reels.
Talisman has two recordings available -- Phoenix (1996) and Just Up the Hill (2004) -- which may be purchased from our web store or through CDBaby. Each features the band's inspired arrangements and accomplished, good-humored playing in over an hour of engaging tunes and songs.
Talisman can perform as a duo, trio, or quartet, depending on individual availability. In any configuration, Talisman will bring smiles and the urge to dance to all who listen.

Read what people have been saying about Talisman:
"Like all good bands, the whole is better than the sum of the parts, and the combination of dulcimer, fiddle, and whistles/flutes trading leads driven by excellent guitar playing makes [Just Up the Hill] a winner."
-- Dulcimer Players News
"The Talisman sound is unique and hard to compare with major name artists. If you enjoy Clannad's most harmonious moments you'll definitely enjoy Talisman."
--John Willmott, CelticWays.com
"The band is called Talisman, and Sara and Carl and their friend Russ are the musicians. I'm sitting in the Full Moon Cafe in downtown Lawrence wrapped up in the scent of Greek food. I'm listening to Scottish ballads, Swedish love songs, Finnish waltzes, and I'm dipping hot pita bread into hummus. I'm drinking a mellow French red wine. Patchouli incense from the store up front selling Eastern rugs, saris, and Sherpa bells wafts through the room, blending with the music and grilled meat that is savory, strong, a little pungent.

"Outside, an evening rain drums on awnings and trails down car windows. Inside the cafe, the lights fall soft on the wood and native gray stone, the plaster walls and light-colored tile floors. Where the guests sit, down a step from the band, the ceilings are low...

"Uncle Walter goes waltzing with bears, sings Sara. Her clear soprano resonates above the men's deep harmonies, the precise notes of Carl's hammered dulcimer, the simple tenor of Russ's classical guitar. Over the break, we share wine. Supper is pasta, feta cheese, sliced tomatoes, Greek salad.

"Sara plays the woodwinds and flutes, a recorder, and a drum, a round bowl she sets up on one knee and brushes with a wooden paddle during the Irish marches. The drum sounds out a low, soft 'thrum'... not like beating, but more sustained."
-- from House of Steps by Amy Blackmarr, 1999.
Personnel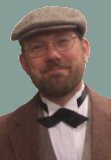 Carl Thor (hammered dulcimer, keyboard, vocals, percussion) also plays in Cascade Crossing, Hands4, Celtinalia, the Portland Megaband, and in various informal dance music ensembles. He has accompanied choirs including the Aurora Chorus in performances of music for choir and hammered dulcimer. He teaches hammered dulcimer and piano at Artichoke Community Music, and teaches piano and electronic music at Portland Community College.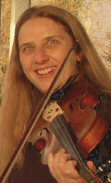 Lori Prime (fiddle) joined Talisman after moving back to Portland from Redmond, OR. She has built some impressive fiddle chops through her playing with Cascade Crossing, Hapsala, the Portland Megaband, and her diligent practice schedule. A retired VA nurse, she now finds even more time for music, dancing, kayaking, hiking, cycling, and family activities.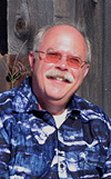 Rich Goss (guitar, vocals, percussion) performed in several Austin, Texas bands prior to moving to Portland. He currently plays in Cascade Crossing, Hands4, and the Portland Megaband. Rich also enjoys calling contra dances and has called from Vancouver, BC, to San Diego to Texas to New England. He serves the Portland Country Dance Community as a member of two dance committees. To propel all these activities, Rich works as a software quality analyst. In between, he still finds time to walk his dog, Otto.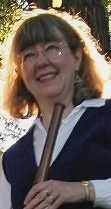 Sara Martin (flutes, penny whistle, vocals, percussion) has performed with Talisman since its inception, and has been a member of several choral groups, most recently the Evergreen Singers. Now retired from the Evergreen State College, and the mother of two musically inclined young adults, Sara is a quilter, a poet, a gardener, and a spiritual light to her friends and family.
Talisman Demo Tracks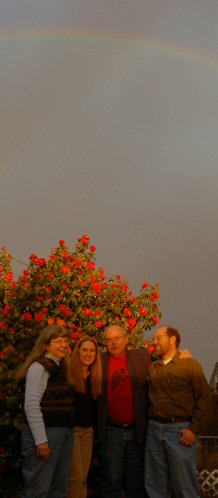 Click on the links to hear samples of Talisman's sound (MP3 format).
Promo Documents
Here are documents for promoters, bookers, and press, providing additional information about Talisman.
Click to view; right click and select "save link as..." to download to your computer.