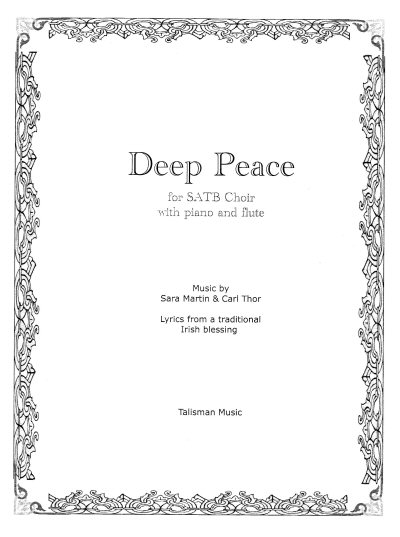 Deep Peace for SATB choir with piano and flute
by Sara Martin & Carl Thor
© 2006, 8½x11 folio, 8 pgs.

Product #: THR-04M
Printed music
Price: $2.00 per copy

Product #: THR-04F
Licensed PDF
Price: $1.00 per license

Enter your information before adding to cart!
We have always enjoyed the words of the Deep Peace Irish blessing:
Deep peace of the running wave to you,
Deep peace of the flowing air to you,
Deep peace of the quiet earth to you,
Deep peace of the shining stars to you,
Deep peace of the gentle night to you,
Moon and stars shine their healing light on you,
Deep peace to you.
So Sara set the text to music, and Carl harmonized the music and arranged it for 4 part choir. The piece evokes the calm and timeless beauty of the natural world around us. The sheet music is now available either as a high-quality printed folio or as a PDF file imprinted to allow you to make a specific number of copies. Listen below to a recent performance of the piece by the choir at the Unitarian Universalist Church of Vancouver.