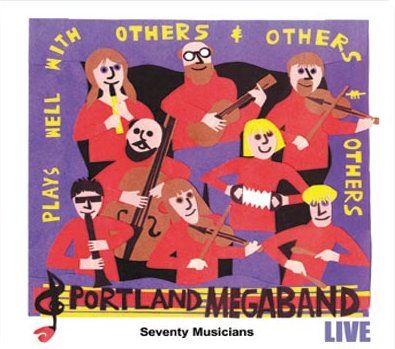 The Portland Megaband: Live
70 Musicians in an all-volunteer contra dance orchestra
© 2002, 14 tracks / 36 tunes / 73:59 total time

Product #: PMB-01D
Price: $15.00
This CD was recorded at the annual Megaband contra dance in Portland, Oregon, March 9, 2002. Seventy musicians played at this event: 30 fiddles, 10 mandolins, banjos, and autoharp, 7 whistles, flutes, recorders, 3 concertinas and accordions, 2 clarinets, 2 saxophones, 3 hammer dulcimers, 9 guitars, 4 percussionists, keyboard, bass, and harp. Although the tune sets here have been edited to fit the time of a CD, many transitions within and between the tunes have been left intact to retain the feel and flow of an actual Megaband dance. The Portland Megaband has a tremendous range of sound from flashy solos to quiet harmonies, to powerful wall-of-sound crescendos. Dancers are driven to paroxysms of delight by the tight, precise playing of this contra dance orchestra. We hope that the listener will experience this same energy and excitement upon hearing this recording.

Track List:
Robertson's Reel by Tom Anderson / Paddy on the Railroad / John Stenson's (5:36)
Wagoner One Step / Brasstown by Donna Hébert / Shennandoah Falls (6:13)
The Flowers of Autumn by Clyde Curley / The Banks of Lough Gowna / The Boats of Killaloe* (4:52)
Da Guizers' / Mairi's Wedding / Meeting of the Waters (5:22)
Far from Home / Old John Tate / Chirps and Grain by Gordy Euler (6:10)
Bob Olsen* / Elzic's Farewell / The Boatman (6:08)
Autumn Nights by Carl Thor (2:35)
Haverö (2:58)
Jimmy in the Swamp / Devil in the Strawstack / Forked Deer (6:16)
Hommage ŕ la Belle Gaspésie* by Marcel Messervier / Jules Verret / Hommage ŕ Rock Proulx by Marcel Messervier (5:27)
That Jig by Carl Thor / Leaping Lulu by Greg Boardman / Early in the Year by Dan Compton (5:28)
Martin Hayes* by Francis O'Connor / Ernie Healy's* by Paidí Bán O'Broin / Wissahickon Drive by Liz Carroll (5:43)
Forest Wedding by Todd Silverstein / Stool of Repentance / Good for the Tongue (7:44)
Best Wishes Eliza and Gordy by Larry Unger (3:27)
* Corrected titles were learned since the release of this recording:
The Boats of Killaloe correct title is: Munster Buttermilk.
Bob Olsen correct title is: Hey Little Girl, Do What I Tell You.
Hommage ŕ la Belle Gaspésie correct title is: La Belle Gaspésie.
Martin Hayes correct title is: The Hairy Dogleaf.
Ernie Healy's correct title is: Poor But Happy at 53.