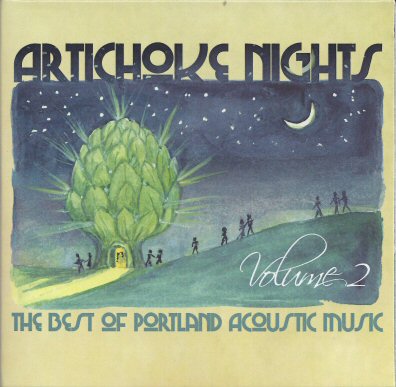 Artichoke Nights 2
The newest release from Artichoke Community Music in Portland features 20 musicians associated with the Artichoke.
© 2012, 20 tracks / 79:55 total time

Product #: ART-02D
Price: $10.00
Richard Colombo describes this project: "We hope you enjoy our sampling from our Artichokian friends who so graciously gave their time and talent to bring together this wonderful collection of songs. These folks regularly grace our stage at Café Artichoke and bring toether a spirit that captivates and touches the hearts of us all."
Track List:
"Tree In the Garden" Richey Bellinger (3:32)
"Name Stitched in Blue" Pete Ekstam (3:14)
"The End of the Evening" Olivia Duffy with René Berblinger (4:54)
"White Eagle" Daniel Cecil (4:27)
"Love Ain't So Far" Alexa Wiley (3:40)
"Manzanita Morning" Carl Thor (3:30)
"Play With Me" Don Wheatley (3:44)
"No Love Song" Adrian Martin (3:40)
"Goodbye to Dad" Dan Weber (4:56)
"Blue Roads, Red Wine" Tom May (3:38)
"Mary Has Grace" Andy Anderson (4:17)
"Schwinn Typhoon" Paul Kwitek (3:34)
"Straight On" Michael Henchman (4:22)
"Centered" Tim and Sophie (3:12)
"Cottage" Therese Michaud (3:27)
"It Couldn't Be Love" Martin Hill (3:40)
"The Ghost of Irving Park" Helen Chaya (3:46)
"Love Will Go" Robin Greene (3:22)
"This Must Be Artichoke" The Tummybuckles (5:05)
"Yippie Ki-Yi-Yay" Jack Kennedy (5:31)
All songs copyright by the individual artists.